Every year, during March and early April, more than 80% to 90% of the world's population of Sandhill cranes pass through the Platte River Valley. It is the largest assembly of sandhill cranes in the world. The cranes come to rest and refuel as they prepare to journey to breeding grounds in Canada, Alaska, and Siberia.
The cranes using the Platte River is not a new phenomenon. Fossil remains of a sandhill crane date as far back as 8 million years.
During the day the sandhill cranes feed on waste corn in corn fields adjacent to the Platte River. The corn is about 90% of their diet. The remainder of their diet consists of insects, earthworms, snails and plants. During their stop in Nebraska, cranes will gain nearly 10% of their body weight.
The cranes spend the night on sandbars in the Platte River. The river offers the cranes protection from predators during the night. Being in a blind along the Platte River to watch the cranes come back to the Platte at night, or to watch them lift off in the morning is an awesome experience. I did neither this year. But watching them feeding in the corn fields is interesting also.
larger image
larger image
larger image
More about Sandhill Cranes can be found
here
Head on over to Camera Critters to see more critters (by clicking on the icon)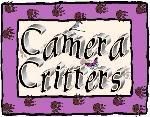 UPDATE: Sunday morning March 22.
The
Lincoln Journal Star
has an article about the sandhill cranes in todays paper.